WASSMANN ONLINESHOP WINE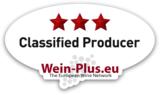 Please klick here for our natural wine-shop.

We deliver all over Europe.
If You have any question about how to get our wines, please contact us:
hanauer@weingut-wassmann.de
Sorry, our shop can only work in one language and therefor it is in german, but below here You find the english descriptions
for download.
Sorry some new vintages have not been translated yet, but You´ll get an idea of our natural wines anyway:
HUNGARIAN WINES OF EXCELLENCE:
WASSMANN Cabernet Franc 2014:
"Medium deep ruby colour. Pronounced on the nose, pointing to blueberry, blackberry, vanilla and elevated chocolate. Rich style on the palate as well, suggesting full body and slightly drying tannins. Vanilla, plum and tobacco, accompanied by sour cherry jam and a dash of earthy tone. Good balance and sound grip."
WASSMANN Cabernet Sauvignon 2014:
"Ruby colour. Fine raspberry and strawberry flesh pop up with lots and lots of fruit. Slightly, edgy on the palate with black berry fruit, some tarry, liquorice notes and charakterful tannin structure. Full bodied, yet the freshness stays tune all the time. Tobacco leaf and some ´peated ´tone appear on the long finish."