Who does what in our winery?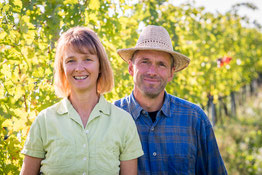 Ralf Waßmann
Beverage scientist.
Ralf is a born lover of fermented juices! Even as a young man back in the western Harz region of Germany he made wine from cherries, rosehips and gooseberries, in the absence of grapes. Thus, it made sense for him to study the science of wine-growing and beverage technology after A-levels. This makes him the expert in natural wine-making and he controls what happens in the vineyards and the cellars.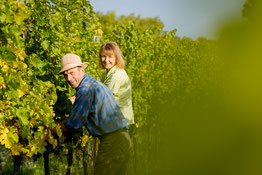 Susann Hanauer
Lawyer, winetaster.
Susann studied law in Tübingen and Heidelberg and has a weakness for wine, like many in the legal profession. For a while she marketed Bordeaux wines in Germany. She learnt a lot from Ralf and other wine- makers, both in the vineyards near Heidelberg and in the south of Hungary. She also widened her knowledge through reading specialist literature. Since March 2009 she has been a winetaster and takes part in international wine-tasting events. Back at the winery she takes care of the administration of the business and the handwork in the vineyards.
Have you any questions?
Please contact us